Biological Safety Quality System Manual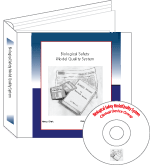 Stark NJ, Biological Safety Quality System, Clinical Device Group Inc, Chicago, IL 1996. References, three-ring bound. $275.00 USD.

Written for a model start-up company, our quality system is a composite of common features from a variety of medical device manufacturers. It is compliant: assuring that your procedures will meet regulations and international standards. It is comprehensive: all important aspects of biological safety are addressed. It is editable: provided on paper copy and on diskette, it is designed for you to customize.
Each standard operating procedure describes a single work activity and results in a single tangible work product.
Quality Statement
Quality Manual
Operations Manual
Standard Operating Procedures:

Request for Biological Safety Evaluation

Developing a Test Plan for Prototype Review

Developing a Test Plan for Prepilot Review

Submitting a Material Quantity Request

Ordering a Biological Safety Test

Issuing Biological Safety Reports

Managing Positive Test Results

Maintaining a Biological Safety Evaluation File

Issuing a Device Safety Release

Reviewing Device Labeling

Device Safety Monitoring Program
Conducting a Contract Laboratory Quality Audit